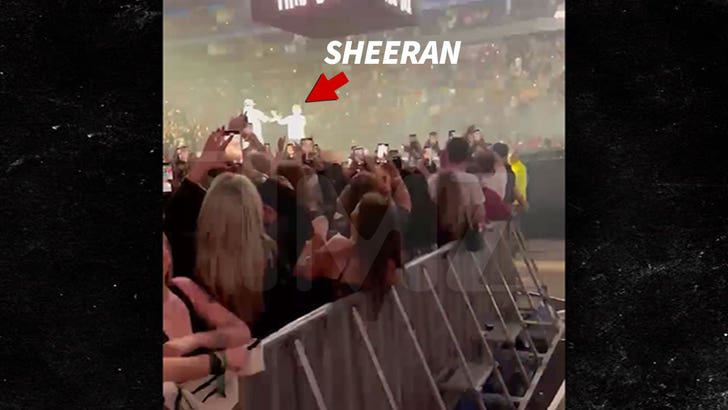 TMZ.com
50 Cent fans got some real bang for their buck as Ed Sheeran made a surprise appearance at London's O2 Arena … as part of the rapper's "The Final Lap" tour.
Video footage obtained by TMZ shows 50 urging the crowd to "turn it up even more" with a massive digital box descending onstage along to the beat of Ed's "Shape Of You."
Rap fans look perplexed at the unexpected voyage into pop as the British singer's vocals are heard live in the distance — and when 50 instructs the audience to "put their hands up," the box lifts to unveil Ed himself.
Cheers erupted from delighted concertgoers … quickly whipping out their phones for evidence of the dynamic music collab onstage.
This isn't the first time 50 has stunned fans with a plus one on stage … bringing out the likes of Busta Rhymes and Eminem.
However, he has racked up legal trouble along the way for tossing a mic into the crowd — in anger for not working; he claims — which hit Power 106 radio host, Bryhana Monegain, in the face … leaving her injured.
After she filed a police report, the City Attorney's office told TMZ last week that no criminal charges had been filed against the rapper as long as he kept his nose clean.
50 has 18 shows left on his 103-date "The Final Lap" tour, which spans 35 countries … with India, Australia, Thailand & more patiently waiting their turn "In Da Club."