12:22 PM — Joe Burrow just met with media members to discuss the injury … and he said he felt "a pop" while he was throwing the touchdown pass to Joe Mixon.
As for the brace he had on his hand when he landed in Baltimore earlier this week, he told reporters it was simply a compression sleeve to keep some of his other "bumps and bruises" in check.
"This is a completely different thing," he said.
Burrow added that he's planning to still be around the team the rest of the year despite being out for the remainder of the season.
The Cincinnati Bengals will have to try to win a Super Bowl this season without Joe Burrow.
The team just announced its star quarterback suffered a significant wrist injury that will keep him from playing the rest of this year.
According to Cincy head coach Zac Taylor, Burrow appeared to sustain the ailment just before throwing a touchdown pass to Joe Mixon in the second quarter of the team's Thursday Night Football game against the Ravens.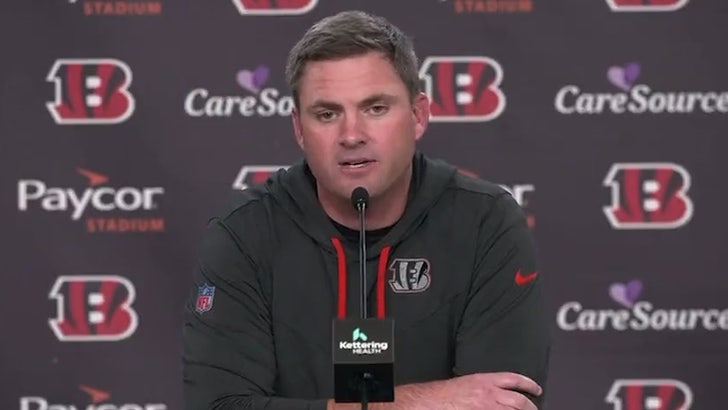 Cincinnati Bengals
Burrow tried to play through the pain … but cameras inside of M&T Bank Stadium showed he just simply couldn't grip a football — and sat out the rest of the contest, which the Bengals lost, 34-20.
Taylor said his 26-year-old star will "likely" need surgery to fix the issue.
The team, meanwhile, could find itself in hot water over it all … as the NFL is reportedly investigating whether or not the Bengals knew about a potential problem with Burrow's wrist leading up to the big "TNF" matchup.
Burrow was seen getting off the team plane in Baltimore wearing some kind of brace on his hand — yet he was not listed on the team's injury report heading into the game.
Regardless, losing Burrow is obviously a huge blow for Cincinnati … as the signal-caller is widely considered one of the five best quarterbacks in the game right now.
The Bengals — now 5-5 — will turn to Burrow's backup, Jake Browning, to try to save their season.
Originally Published — 11:45 AM PT