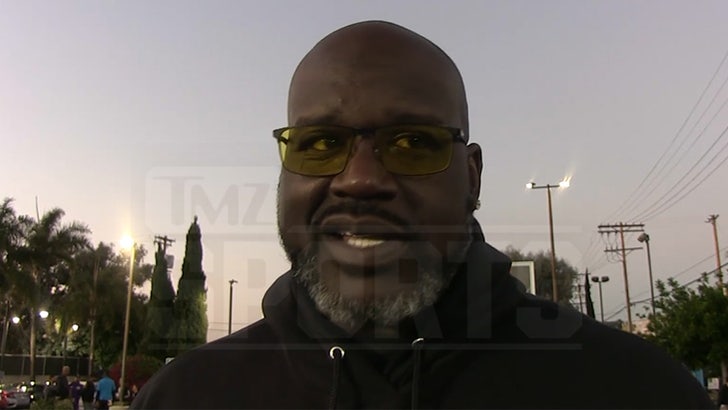 TMZSports.com
Shaquille O'Neal continues to give back … this time the Big Fella refurbished a basketball court at a Boys & Girls Club in Los Angeles, and then spent the afternoon hangin' with the kids, and they were over the moon!
TMZ Sports was there at the BGC of Metro LA when the Hall of Famer, local officials, and Icy Hot (Shaq's longtime partner) reps opened the Comebaq Court … an initiative launched by the Shaquille O'Neal Foundation which aims to fix courts and fields for kids across the country.
"I came here one time and I saw the court need to be refurbished," O'Neal told us on Thursday, adding, "I asked about the refurbish. They told me 'yes' and this is the result."
"If we can help one, if we can help 100, we can help 'em all"
FYI, this is Shaq's fifth Comebaq Court to date … he also has fixed up courts in his hometown of Newark, New Jersey, in addition to several other places like Atlanta, Miami, and Las Vegas, where he's spent significant time.
And, there's more to come.
O'Neal may get most of the credit from the media, but Shaq is quick to recognize his less-famous partners who made this possible, including the Icy Hot Foundation and various counselors who helped contribute.
"Those counselors, the one who volunteers every day, they actually should get most of the credit," Shaq said.
"If you need computers, you need laptops, fresh paint — then you call Uncle Shaq."
The NBA legend made nearly $300 million over his 19-year career in NBA salary money alone. That's not counting all of the endorsements, and lucrative business moves O'Neal has made during and after his basketball playing days.
So, he's got the money, but this is about much more than writing a check. Shaq cares about the kids' well-being … and that's awesome. At the end of the day, it's things like this that make Shaq one of the most lovable athletes of all time.
With the holidays coming up, we asked the 51-year-old what he was doing for Turkey Day… and in true Shaquille fashion he told us … "I don't do anything in my house."
"I try to feed homeless families."